Energy Efficient Stoves - Project Profiles (September 2009)
co2balance Kenya recently visited Kasigau, the area where we built the last batch of energy efficient stoves, to evaluate how the households were doing, and to discuss with them about their experiences with their new, improved stoves.
The feedback we received was extremely encouraging. The women love their new stoves (women do the vast majority of cooking in Kenya for the family) and the positive impact the stoves are having on their lifestyles. They are now spending much less on firewood, making money available to be spent on other necessities. Their children spend less time out on their own collecting firewood. Many people spoke about how the amount of smoke released from the new stoves are a drastic reduction to the amount of smoke given off by their old stoves, and how this has led to cleaner kitchens and improved health.
To help demonstrate the social improvement that the stoves have made we have interviewed two women from Kasigau, to show how the new stoves have improved their lives.
Mamma Mzee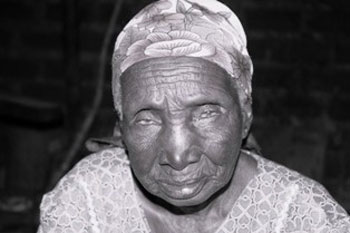 Mamma Mzee
Rosemary Mwazinge is one of our data collectors (they help us calculator the savings in firewood use). Both Rosemary and her mother were given stoves by co2balance. On a visit Rosemary took us to meet her grandmother. Mamma Mzee ("Old Mamma") as she is affectionately named, is 89 years old with seemingly limitless energy. Mamma Mzee still cooks for all her grandchildren, of which she has twelve in total. Mamma Mzee told us that the stove has made life so much easier for her.
"I am very happy and thankful for my stove. It is a very good stove. It can cook much better than my old stove and it is very much quicker. When all of my children, and all of their children come home, I can put the stove on and when they are finished with their chores and their talking, the food is already finished. So quickly! And the food is very good and very hot. I can feed them all with so little firewood. They are happy and they are not hungry. And I am happy too".
Mamma Mzee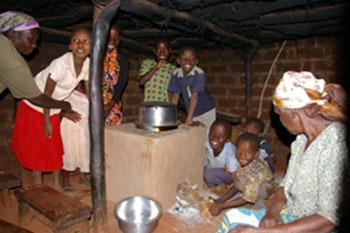 Mamma Mzee and some of her grand children around their new stove
Friends Corner Café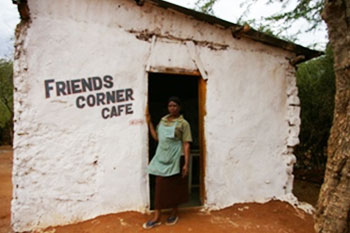 Ruphence outside her little café
Ruphence Malenkeba is our next remarkable Kenyan, who started a little café called Friends Corner Café. Her new energy efficient stove has allowed her to prepare more food in less time, thus meeting the demands of her customers. She says that since she received the new stove, she has been able to take more orders, make more food and more money.
"This is a great stove. It works very good and very fast. Now I only use 2 k of charcoal when I was using 5. I can cook my beans and my ugali very quickly, so there is always food ready and none of my customers have to wait. They are all saying that Ruphence has the best café here and they are right. I have a good stove and I love it very much. I hope that I can get another one because then I can make this place bigger. It is a very very good project. I want to say Asante sana (thank you very much) to co2balance".
Ruphence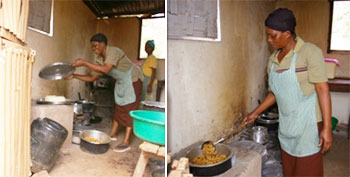 Ruphence with her improved stove
We are very pleased with how appreciative these women are with their new stoves. From everything that we were told, it is clear that the improved energy efficient stoves have a powerful positive impact on the women and on the community. Their stories encourage us to continue with our work. We look forward to bringing you many more positive profiles in the future.
Some photos of women with their stoves